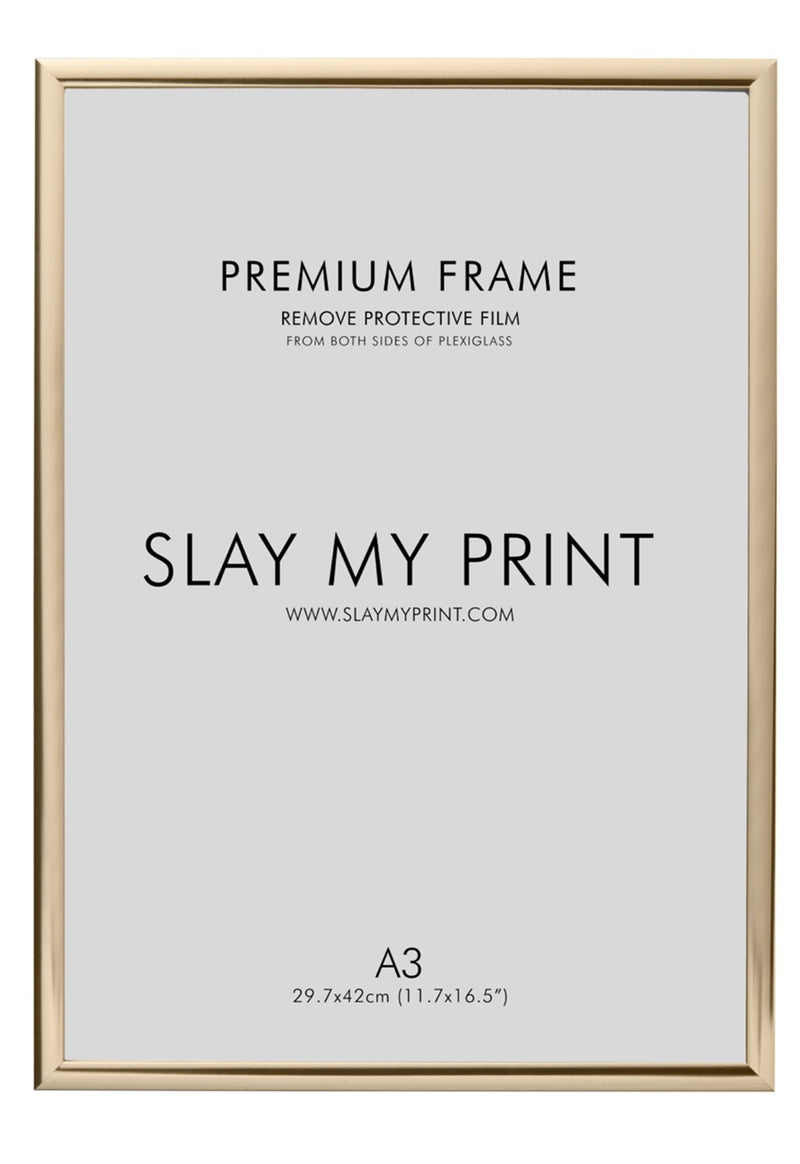 Gold A3 Picture Frame
Regular price
£14.95
---
Golden beauty! Our stunning Gold A3 Picture Frame is a must-have for your home. A high quality, aluminium frame that will suit any home decor style. Our classic frame comes with two fixed hanging fixtures on the backboard so you can choose to display your frame portrait or landscape to suit your wall art.

A poster frame is the finishing touch to accessorise your home and as our frames come with crystal clear plexi fronts they are lightweight and easy to hang on your walls. Our shatterproof fronts are safer than glass without compromising on clarity! Our slim, gold metallic picture frames will add a modern, elegant touch to any print.

Specification:
Frame is designed to fit A3 sized prints -

 

29.7x42cm (11.7x16.5")



Gold Aluminium Moulding - 9mm W x 22mm D

Non-glass plexi front
MDF Backloader
Mounts are not included
For returns information click here.
 www
GOLD A3 PICTURE FRAME
Gold colours have so much potential when used as a home decoration. It looks just as good in ultra-modern homes as it does in classically designed ones, and everywhere in between. So, it should come as no surprise that our gold A3 photo frames are some of our favourite picture frames to pair with our designs.
Choose to match your frame with our brilliant gold wall art, or create a contrast by choosing prints following a different colour scheme. You're limited only by your imagination!
OUR FRAMES SUIT YOUR NEEDS
Our thin gold photo frames in A3 sizes measure in at 29.7cm x 42cm (11.7" x 16.5") and can safely showcase either A3 sized prints as is, or A4 sized prints when you use our A3 white mount that's sold separately.
This dazzling gold frame is the perfect companion to any stylish piece of art, adding just enough brilliance and elegance to your chosen print without stealing the show.
At A1 size, this frame comes with a width of 9mm and a depth of 22mm, meaning it is both thin and lightweight. As well as this, the metal used is a sturdy aluminium that shows off the gold colour amazingly.
At the back, you'll find a solid MDF backloader that's used to keep your print firmly in place. Attached to this backloader are two metal hangers that are positioned so you can hang your prints either horizontally or vertically.   
SAFE AND STYLISH
Our gold A3 picture frames feature a transparent front that's made of acrylic plexiglass rather than standard glass. This means that our frames are just as easy to see-through as normal glass while also being shatterproof. Result!
ADDITIONAL INFORMATION
Some of our prints are intentionally produced with a white border - this will be shown clearly in the product imagery and in the product description. This does not change the overall dimensions of your poster size, it is simply a white border around your chosen design.

The size information refers to the total size of the print. The printed image will be slightly smaller than the paper size to accommodate the white border. For example a 40cm x 50cm size print may have an actual image size of 38cm x 48cm to accommodate a 2cm border.
Please note this example is for illustration purposes only and does not reflect the actual dimensions of the white border for this specific design.

If in doubt please refer to the product description and imagery.

We are unable to customise our prints to add/remove white borders.
For our UK customers we ship our A4 prints in double boarded envelopes, all of our larger prints are shipped in postal tubes and our frames are shipped in boxes through Royal Mail Tracked 48 (approximately 1-3 business days).
All of the timescales listed above are estimated and exclude weekends and public holidays. Orders may be shipped in multiple packages due to the order size.
PRINTS

Please contact us to arrange returns no later than 14 calendar days after receiving your products.

Under the Consumer Contracts Regulations, you will be responsible for paying for your own shipping costs for returning unwanted items and these costs are non-refundable.
Our shipping costs are also non-refundable if you return part of your order.
Items should be returned within 14 days of contacting us. Refunds will be paid within 14 calendar days after returning the goods, or evidence that they were returned. Refunds are made via your original payment method (please check with your card issuer for timescales).
If you receive a damaged/incorrect print, please contact us ASAP!

FRAMES
Please check your Frames thoroughly before unpacking and contact us immediately if you notice any defects following the above process.  
All returned Items must be in a resaleable condition, under the Consumer Contracts Regulations, a deduction can be made if the value of the goods has been reduced as a result of you handling the goods more than was necessary. The extent to which you can handle the goods is the same as it would be if you were assessing them in a shop.
For Example: All of our frames are wrapped in clear protective film, if you were to purchase them from a shop you wouldn't remove the film to assess them.
We do not offer returns/exchanges/refunds on any of our personalised prints. 
Prints may arrive a few mm shorter than the listed size to accommodate a standard frame for the advertised size.